We rely on new ideas, and people who keep their minds open to how to make them happen, to deliver products that can change people's lives. When faced with a revolutionary concept, whether it be for a new product, or even just a new way to organize the supply room, we try to say yes (or at least maybe) before we say no. We innovate for real.
Dwight Lee started his career in the aerospace industry implementing software that controlled a rudder, that improved the cockpit of a military aircraft, and that controlled the brakes on a commercial airliner. While the software was interesting to him he felt disconnected from the final outcome. He came to Tandem for the opportunity to make software that has a larger impact on the user. After almost nine years, he's making a significant impact as manager of software engineering, and it is still what he enjoys most about being at Tandem.


What are your favorite things about your job?
It's the opportunity to design and implement new solutions to help the diabetes community.

What are some of the challenges of your position that you enjoy most?
There are many different ways to tackle problems that are faced by people living with diabetes. My colleagues living with diabetes and our customers who give us feedback have helped me understand these challenges. I enjoy collaborating with all the different groups here at Tandem and coming up with safe and exciting new solutions.

As a part of our software team, what gives you pride and what are you most looking forward to?
I'm very proud of the entire software team, and especially the team that worked on our new Tandem Device Updater, a revolutionary new tool that is designed to give customers the capability of adding new features without having to wait for their insurance to cover a new device.1 This is the first time an insulin pump company has made a software update available to its customers using their personal computer from home.

We are working on exciting new software updates to offer our customers as they are approved by the FDA. I look forward to working on enhancements that our customers can trust and getting them to them fast.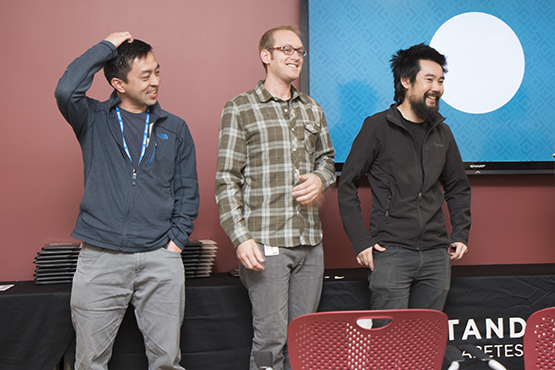 Is there anyone at Tandem that was influential in your career development?
Many of my teammates have made a large impact on my career. The collaborative culture of the software group embraces frequent feedback which has helped improve my skills and confidence to approach any problem.

Tandem has been named a "Best Place to Work." What do you think makes Tandem a great place work?
The collaborative atmosphere and the desire to get things right. Also, in software we don't take ourselves very seriously. However, we do take our work seriously.

What advice would you give someone who is interested in working in software development and medical devices?
I would recommend exploring the many different types of software (embedded, mobile, web, etc.) and see what interests you the most. Then, investigate examples of how this type of software has been used to solve problems in the medical industry. A genuine interest in the technology goes a long way!
Find out about careers at Tandem
here.
1
Available software updates can be found at www.tandemdiabetes.com/updater. Additional software updates and new features are subject to future FDA approvals. Charges may apply.