If you're sheltering at home or unable to visit your healthcare provider, you can still receive care by allowing them to remotely access your pump data.
When you upload your pump data to the cloud-based t:connect® web application, your healthcare provider can view it from wherever they are, and gain insight into therapy decisions.
Before you start the process, check to see if your computer's operating system and browser are supported:
Supported Operating Systems
Microsoft Windows 10
Microsoft Windows 8.1
Microsoft Windows 7
Mac OS X Catalina (v10.15.4) NOW AVAILABLE! NOTE: The latest version of the Mac uploader does not support BG meter uploads.
Mac OS X Mojave (v10.14)
Mac OS X High Sierra (v10.13)
Supported Browsers
Internet Explorer 11
Chrome (latest)
Safari (Latest)
Follow these steps to give your healthcare provider remote access to your insulin pump data:
1. Register your pump on the t:connect web application. If you are already registered, skip to step 2.
2. Upload your pump to the t:connect web application.
Plug your pump or BG meter into your computer.
Open the t:connect uploader and click Start Upload.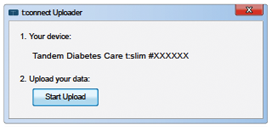 The "Upload Successful" message is displayed after the data has successfully been transmitted.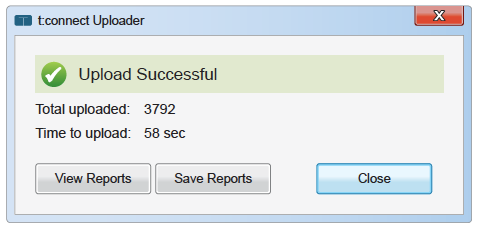 3. Contact your healthcare provider.
At this time, you have three options to share your most recent data prior to your telehealth visit. You can choose to:
Provide your HCP with your username and password through a secure method so they can add you to their patient access list and view your data. Once you have been added to your HCP's patient access list, we recommend that you change your account password. Your HCP will continue to have remote access to your data, even after changing your password, as long as they have added you to their patient list.
Save your reports as a .pdf and send them to your HCP through a secure method.
Print your desired reports and fax them to your HCP.
At Tandem, we're here to support you during this difficult time. Please visit our Support Center if you need help uploading your data to the t:connect web application.
---
Important Safety Information
Caution:Federal (USA) law restricts this device to sale by or on the order of a physician. The t:slim X2™ insulin pump with interoperable technology is an alternate controller enabled (ACE) pump that is intended for the subcutaneous delivery of insulin, at set and variable rates, for the management of diabetes mellitus in people requiring insulin. The pump is able to reliably and securely communicate with compatible, digitally connected devices, including automated insulin dosing software, to receive, execute, and confirm commands from these devices. The pump is indicated for use in individuals 6 years of age and greater. The pump is intended for single patient, home use and requires a prescription. The pump is indicated for use with NovoLog or Humalog U-100 insulin. The t:slim X2 pump must be removed before MRI, CT, or diathermy treatment. Visit tandemdiabetes.com/safetyinfo for additional important safety information.