Marcella Brooks is all about chasing goals — the figurative and the literal ones.
As a center-forward for the UNLV women's soccer team, she spends her time on the field stalking the opponent's goal looking to score.
Off the field, however, her goals are different. She's trying to find balance as a Division I student-athlete, while still enjoying the college experience as a 21-year-old woman. But because "Cella" has been living with type 1 diabetes since 2010, her goals also need to revolve around her glucose levels.
"Having type 1 made me realize how important it is as a person and an athlete to take care of my body," Cella explained. "When I was first diagnosed when I was 9, I didn't really grasp the idea that this was going to stay with me my whole life. But the older I've gotten, the more I've learned that it's just a part of me, but it doesn't define me.
"It's actually helped me mature. I feel like I can be more flexible and handle anything in the moment and not freak out about it."
Cella, who just wrapped her junior season with UNLV, was practically raised on a soccer field. The youngest of four children (with three older brothers), she started playing soccer when she was 2. She grew up in the Summerlin community northwest of the famed Las Vegas Strip and always hoped to one day play for the hometown UNLV Runnin' Rebels.
She finished the 2021 season third on the team in goals scored (4) and tied for second in points (10).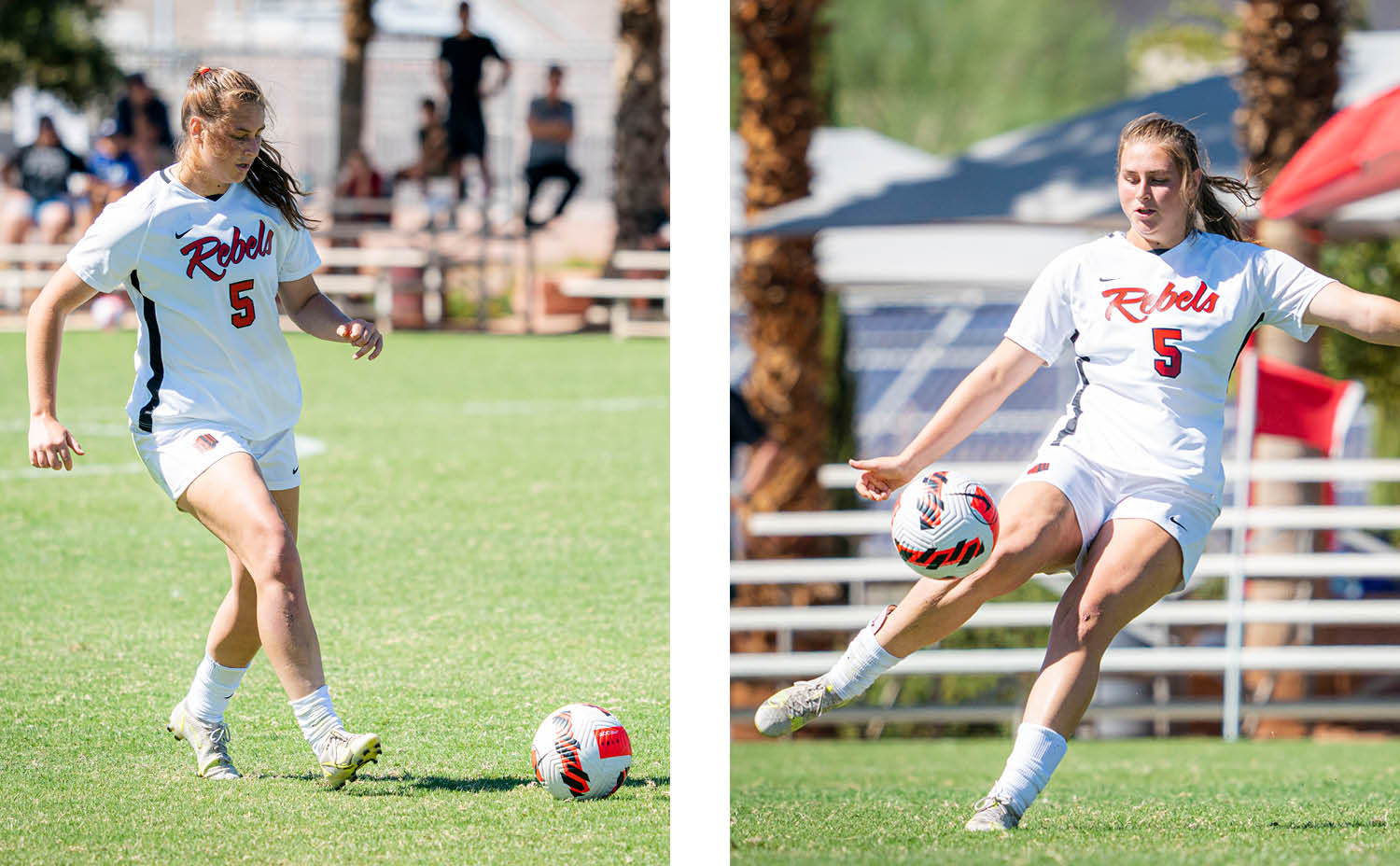 Cella Brooks has six career goals in three seasons with UNLV.
"It's an honor to play for this team," Cella said. "I feel so blessed to be able to play in front of my family and everyone who has supported me. This team has so much grit and determination. The dedication is unreal."
To be a college athlete with T1D also takes an extreme level of dedication. Cella uses the t:slim X2™ insulin pump with Basal-IQ® technology to help manage her lows. Before games, she'll keep the pump on during warmups to check her levels. Then a trainer will hold her pump and have a sports drink or small candies available throughout the game if she needs them.
"I have learned so much from her and she continues to educate me," said UNLV Head Coach Jenny Ruiz-Williams. "I really marvel at her discipline to take care of her body so that she can perform day in and day out. When I first came on board as the new coach of UNLV she never once told me she had diabetes — it was something I learned about when I got a peek at her pump one day. She doesn't use diabetes as anything but a strength to her. It's just a part of her — it's a very special part."
Cella has grown up with many of her UNLV teammates, either having competed with or against them at the club or high school level. Already having friends on the team made her transition to college easier.
"They understand when I need sugar and when I need to be on my pump," she explained. "I'm fortunate to have people in my life who care for me and understand what I need."
For National Diabetes Awareness Month, Cella plans to post about her T1D experience on social media. She also has a special dinner planned with her parents. As her star continues to rise with UNLV soccer, she knows there will be younger T1D athletes looking up to her.
"I would tell them to focus on controlling what you can control," Cella said. "If you take care of your body and understand how to safely train, type 1 diabetes should only be a byproduct of your life. It shouldn't control it."
---
We're so excited to follow your career, Cella. Thanks for inspiring us and others for National Diabetes Awareness Month!
---
Action photo credit: UNLV Athletics/Lucas Peltier
Still photo credit: UNLV Creative Services
Marcella Brooks was not compensated by Tandem Diabetes Care for her participation in this story.
---
From time to time, we may pass along suggestions, tips, or information about other Tandem insulin pump user experiences or approaches to the management of diabetes. Please note, however, individual symptoms, situations, circumstances, and results may vary. Please consult your physician or qualified healthcare provider regarding your condition and appropriate medical treatment. Please read the Important Safety Information before using a Tandem Diabetes Care product.
RESPONSIBLE USE OF BASAL-IQ TECHNOLOGY
Systems like the t:slim X2 insulin pump with Basal-IQ technology are not substitutes for the active management of diabetes. There are common scenarios in which automated systems cannot prevent a hypoglycemic event. The Basal-IQ feature relies on current CGM sensor readings to function and will not be able to predict glucose levels and suspend insulin delivery if the user's CGM is not functioning properly or his/her pump is unable to receive the CGM signal. It's recommended the user always uses the components of the pump system (pump, cartridges, CGM, and infusion sets) according to the applicable instructions for use and checks them regularly to make sure they are functioning as expected. Users should always pay attention to their symptoms, actively monitor and manage glucose levels, and treat according to your recommendations.